Is your clinical team still using traditional hardwired phones? If so, it might be time to consider upgrading to a cloud-based phone system. This contemporary approach to telecommunications can save your business valuable time and money. Let's take a closer look at how a cloud-based phone system can help to future-proof your healthcare practice:
1. What is a cloud-based phone?
Today, cloud-based phones offer the gold standard in communications for Australian healthcare providers. Cloud-based phones use 'Voice over Internet Protocols' (known as VoIP) to make and receive phone calls through an internet connection instead of a regular landline. This major point of difference means that cloud-based systems aren't limited to a specific number of phone lines.
In contrast, traditional on-premise phone systems are not connected to an online data network. The downside of these systems, especially the older models, is that only a fixed number of calls can be made or received at any one time. (You may have experienced this problem if your clinic still has a Private Branch Exchange PBX phone system, as these models were a common choice for medical practitioners some years ago.)
Furthermore, given that on-premise phones are wired to a specific practice or office space, these systems have limited functionality when it comes to remote working arrangements. This is a major disadvantage, especially when the global pandemic has highlighted a need for Australian medical practitioners to have flexible and adaptable tech infrastructure. In short, traditional phone systems offer fewer features and less versatility for your business.
2. Why choose a cloud-based phone system?
Technology is continuously improving, and today's cloud-based phones overcome the limitations of other telephony options by providing clinical integrations, unlimited call lines, improved usability, and added communications features that can be tailored to suit your needs. 
Cloud-based phones offer an array of advantages for medical professionals, practice managers, and administrative teams alike. At a glance, these benefits can include:
Greater flexibility to use a cloud-based phone system anywhere, anytime (even while working from home.) 
Enhanced features, including interactive menus and voice-to-email services.
Improved collaboration, including simplified teleconferencing and call recording. 
Advanced reporting to detail average call volumes, waiting times, and other insights.
The ability to scale and adjust telephony in-line with your business needs.
Lower maintenance costs, reduced hardware investments, and simple fixed fees.
.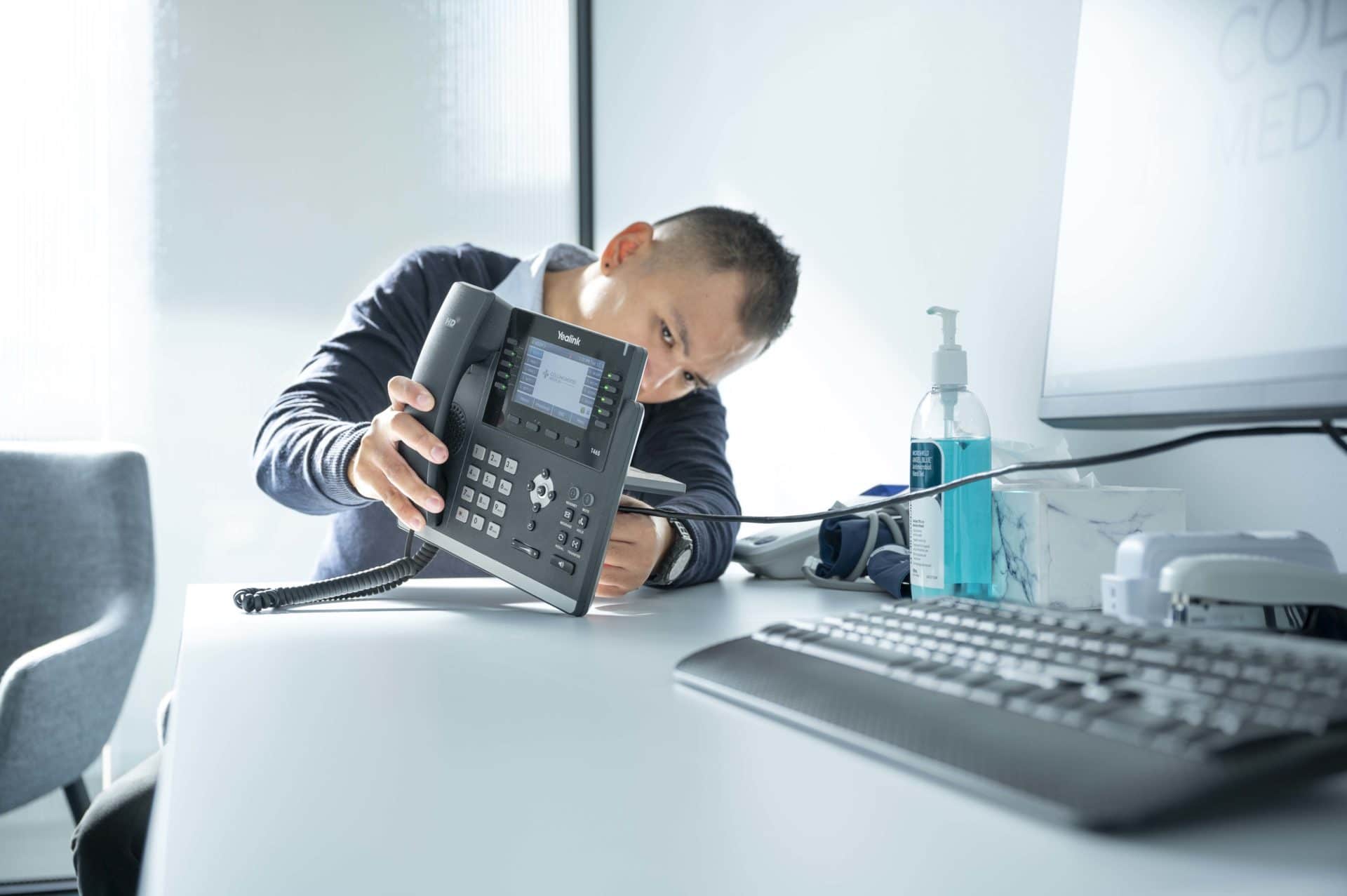 3. Is it possible to bundle phone and internet services?
At GPsupport, our team proudly partners with Aussie Broadband to offer our clients reliable NBN services. We also provide our clients with the ability to bundle a cloud-based phone system with your internet services, all in one convenient place.
Bundling your phone and internet services with us means that you only need to liaise with one expert team for your complete communications needs. You'll speak directly with us, rather than having to waste time contacting third-party phone or internet providers. We can also customise internet solutions for those healthcare businesses that require higher bandwidth than the NBN typically provides.
Our team is available on-call to assist with troubleshooting or unexpected connectivity issues that may impact your business. This reduces downtime and can provide you and your team with peace of mind. We call this approach GPconnect – and it's designed as a one-stop solution for all of your phone and internet connectivity needs.
______________________________
If you'd like to find out more about building your phone and internet together, contact our friendly team today and ask to find out more about GPconnect.